Ask for consent in person
This article assumes that you have already created a project and have an event in it.
Sometimes you might not know who the participant is to ask for consent remotely before the session begins, but you still need to capture their consent.
Consent Kit takes your predefined Org Template and dynamically converts it to an "In Person" consent form by adding a signature field.
In Person consent forms do the following:
Creates a participant and starts the admin upon signing.
Give you improved accessibility with WCAG AAA legibility and works well with screen readers.
Sends a receipt to the participant, including details for how they can update consent or withdraw from the research.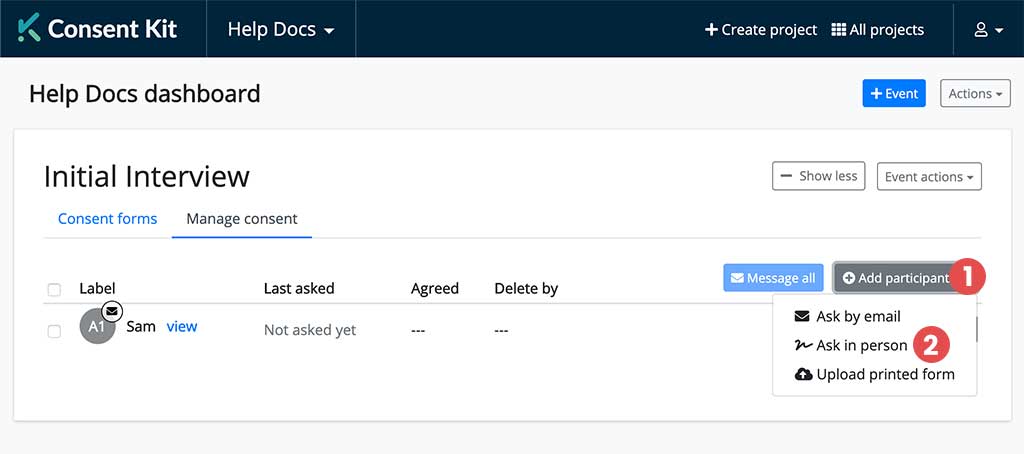 Click on the "Add participant" button in the top right section of the Manage Consent tab within the event you want to add them to.
Select "Ask in person"
Kiosk mode
In person consent currently opens up a new browser tab in Kiosk mode by default. Kiosk mode lets you leave Consent Kit running on an iPad or tablet and allows for self serve sign in if you need it. If you don't, it's easy to skip past to get to the form itself.
Here is what your participant will see:
Welcome page (with your project title)
The consent form itself
Thank you page
After they have signed we will email them a copy of their signed consent form if they have opted to receive one. This contains a link which lets them come back to the form, get the researchers contact details or withdraw from the research if they want to.
What happens next
As soon as someone signs an In Person consent form we will automatically add them to the Manage Consent tab in your event and start logging your interactions with them.
If they change their mind and want to withdraw from the research, we will send all project owners a notification email immediately.